Hardship breeds resilience, and the New England coast is known for its burly lobstermen and tough skinned communities nestled on the edge of the sea. But evolution capitalizes on these everyday obstacles, creating slow change that allows one to adapt and opportunistically prosper in the face of adversity.
New England is also known as the birthplace of the industrial revolution, a period of abuse to the area's natural resources in an effort to rapidly grow as a new nation. Rampant dam building, river and soil degradation, and diverse pollution changed the wild landscape completely. As a consequence, while many of the region's rich ecosystems survived this period of economic and human evolution, a tremendous ecological price was paid.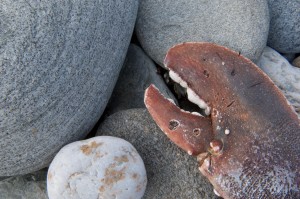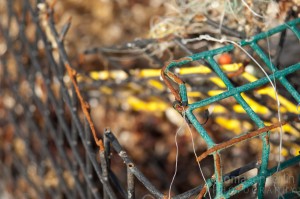 Through all these hardships – the centuries of Arctic winters, Africa hot summers stricken with drought, hunting pressures from heron to indian to pilgrim, and finally, to a period of intense habitat destruction – arose an unlikely and forgotten hero; an example of perfect fluvial form and adaptability (not to mention pure artistic wonder), the 'little fighter' Salvelinus fontinalis, otherwise known as New England's native Brook Trout.
This tale is how a bit of west coast knowledge and creativity caused a movement to discover a unique and secret citizen living in the brooks, creeks, and headwaters of the very bays and waterways that we New England fly fishermen spend countless seasons chasing other more cosmopolitan species like Striped Bass, the hardtails, and Bluefish.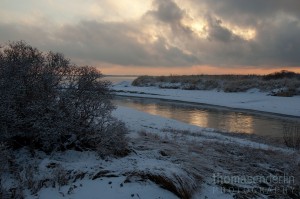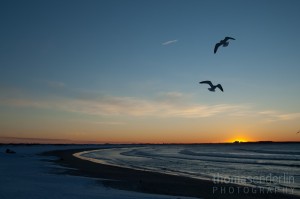 With harsh winds, frigid ocean temps, and traditionally logged Striped Bass spring migration 'arrival dates' come and gone with no serious numbers in sight, a desperate and depressing fog crept over Southern New England seaside fly fishing communities.
Every few days a glimmer of hope shone through the desperation as the right tide and obsessive casting finally coughed up a micro-bass or two, but these moments of triumph soon faded as weather and a seemingly empty sea engulfed the area once more. The bowels of a long winter of tying, drinking, and dreaming seemed to have been sown shut permanently, and Newport, RI became a forlorn place.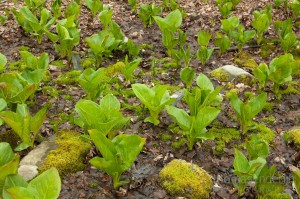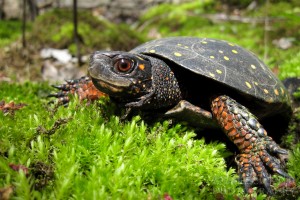 April brought with it 'trout' season: a time for seriously overdressing in the latest Gore-Tex apparel and jingling gadgets to catch stocked trout with a lesser IQ than the rocks they swam over; but after a long winter of deep snow, a little tug on the line felt like heaven. The sanctity of our sport of fly fishing, however, seemed lost in these adventures, and attending the local rivers to catch stocked Rainbow and Brown Trout started to turn into a mission of finding a parking lot with the fewest number of cars already giving them the fly.
It wasn't until an interesting article on Midcurrent called "Bluelining under the Big Sky", by Brant Oswald, came out that an influential article was read, and the inner explorers in our little crew came alive and decided to bust out the latest iPhone, Garmin, and Bing technologies to find all the necessary clues leading to our own East Coast version of Brant's Rocky Mountain "bluelining" odyssey – New England style.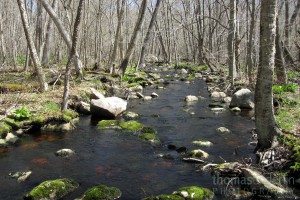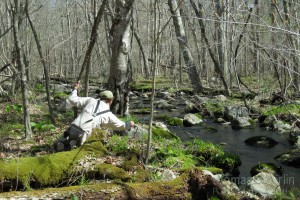 It started as a distant whisper – a rumor of salters (sea run Brook Trout) inhabiting some of the surrounding rivers and creeks. We'd drive for hours only to unknowingly drive right over the celebrated waterway twice before realizing that the willow patch covering a dry riverbed was home to nothing more than empty cans and a ratty old shopping cart ungrateful for the disturbance of it's return to the land.
But we soon became better at our pre-trip reconnaissance, and patterns began to emerge in various shades of blue. Madly successful discovery after discovery led to a climactic journey covering 6 rivers (or tiny little brooks which were barely marked on any map) in 3 days, breathtaking wild and native Brook trout in all of them!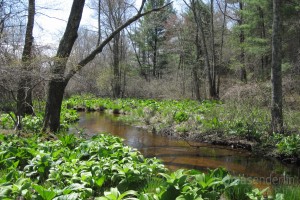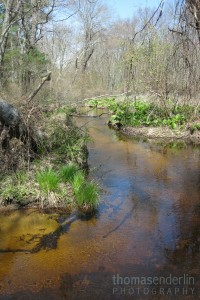 Almost every stream was on terrain reclaimed by trees and nature, and however deep we pushed a crumbling rock wall or relics of an old mill hinted at man's ever present influence to tame the land in days gone by; but the only thing more striking than the level of intensive change Southern New England experienced during it's industrial history was the resilience of it's wild flora and fauna to bounce back and reclaim these wild places given the right opportunity to do so.
The fish weren't necessarily selective, presumably due to the limited recent angling pressure they had received, but the tiny size of the streams coupled with transparent waters called for stealthy hunts on a micro level. On hands and knees, ultra-light rods kept low, we crawled to the water's edge to flick our offerings around the exposed roots of a bank-side tree to small shadows resting on the dappled bottom. As delicately presented dries touched down, explosive takes told of years of opportunistic survival reflective of the many challenges these New England natives have faced.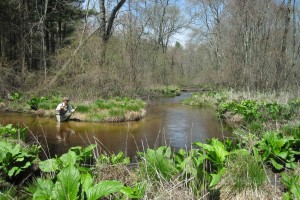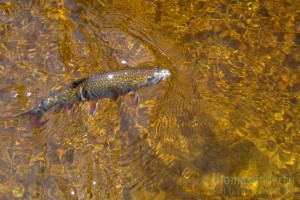 While the area's streams didn't cough up their most guarded secret, a true anadromous wild Brook Trout, or salter, and soon the arrival of the migrating Striped Bass flushed us back to the open water, the vivid color and wildness of each little denizen encountered was equally memorable. Even so, given a trout's ability to reclaim habitat lost to a revolution that sparked the Homo sapien growth of the region, there is sure to be a faint blue line flowing through civilization somewhere in Southern New England where such a fighter still haunts the darkest of pools.
Bluelining is a wonderfully novel concept, and yet it's probably the very ideal that brought every fly fisherman to the sport in the first place: strike off into the unknown, grit through challenging times, eventually the passion and pain pays off with fleeting moments of discovery, and the angler is left with a feeling of success and amazement. It's a concept metaphorically pertinent to many fly fishing communities, and whether your plan B is casting to carp in a local urban waterway or pumpkinseeds and beers, dare to explore… you may just discover what brought you here in the first place.
Thanks for opening our eyes, Brant! Come chase a bass sometime where the blue lines meet the sea.
Originally published on the Saltwater Edge Blog May 2012